Posted | Comments Off on Rollin' with Dad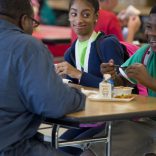 Around 100 men attended the "Rollin with Dad" breakfast and signed pledges to support, encourage, and be involved in the lives of their children. A big thanks to Eileen Kielbasa and our wonderful cafeteria staff for preparing the breakfast and hosting the event.

Just a Reminder… Enjoy the City Book fundraiser money is due by Friday, September 30th. If you are not planning to purchase the book please return it or send the $25 in with your child.
Read More