Posted | Comments Off on Legally Blonde Jr. Showtimes Begin
Legally Blonde Jr. drama production begins December 13th for Southport students .
The doors open at 6:30 PM for the evening public performance on Friday, December  14th at 7:00PM and open at 1:30 for the Saturday matinee performance on December 15th which begins at 2:00PM. The cost is $5 for these shows.
Southport is pleased to announce that we are a drop off location for Toys for Tots donations. Please bring in a new unwrapped toy to donate and help us make sure that every child has a gift this holiday season.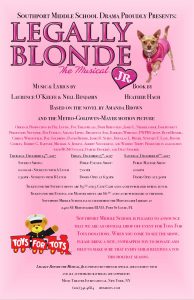 Read More