Posted | Comments Off on Sizzling Summer Reading Selections at the Scholastic Book Fair!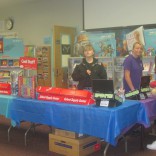 The research on summer reading is clear: Children who don't read during the summer lose reading skills, while those who do read are more likely to be successful in school when school resumes in the fall. So how do you combine your child's need for summer fun with the need to keep them reading? It's easy! Give them ACCESS to many books and the OPPORTUNITY to choose what they want to read.
This week the Southport Media Center is hosting the Scholastic Summer Reading Book Fair! This end of year celebration of reading offers an amazing selection of affordable books, including the newest titles for every reading level. Students could also enter into a raffle to win books, posters, and other summer goodies.
Our Summer Reading Book Fair continues through May 20th from 10:00AM through 3:30PM. The first 75 students who purchase a book receive a free Kids at Hope tote donated by Councilman Bowen and the Port St. Lucie Parks and Recreation Dept! The Media Center thanks you for your support!!
Read More