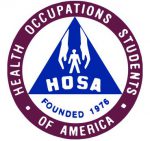 H.O.S.A. State Winners
Join us in congratulating the following students on their amazing accomplishments!
1st place: Gold Medals
Ben Taulbee- Nursing Assisting
Cassandra Connor, Sebastian Falconi & Yamilet Avilies- Community Awareness
Jose Enriques- Vet Science
2nd place- Silver
Marie Ramirez, Tamia Foxx, Yedanny Dominguez, Irene Vallejo, Tamia Renaud- Health Education.
3rd place- Bronze
Haley O'Connor- human growth and development.
Finalists-
Jamal Theobault- medical spelling
Aaliyah Frank- Home Health
Gloria Cruz- Vet Science