Interested in getting a jump start on a college career this summer?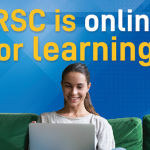 Our lives have changed …
but your plans don't have to.
Indian River State College has hundreds of online classes to help you start,
continue or finish your education.
And 91% of IRSC students graduate debt-free.*
Reserve your spot at an upcoming, virtual Admit One: Admissions workshop,
and get help completing the application for admission, filling out financial aid
forms and more.
Don't put off your plans for the future─Enroll now for Summer or Fall 2020.
IRSC is an EA/EO educational institution. *US News and World Report, Best Colleges 2020
Call 1-866-792-4772 or visit www.irsc.edu for more information.
Good Afternoon Senior Parents and Students,
Below are updates regarding virtual graduation and procedures for picking up Senior items. We will send updated information as soon as we have it. We hope all our Seniors and their families are
well. Stay safe and we miss you dearly!
Before Diploma pick-up students must turn in and pay all obligations. Some examples are below. Seniors who owe a textbook received an email from me two weekends ago. They can email me to check if needed. Books/uniforms/etc. can be turned in when students pick up their Cap and Gown (information provided below). Fees owed can be paid via the instructions sent through the student's email. If you know your book is lost, please email me and I will get the payment link setup for you (Jean.Emerson@stlucieschools.org).
Examples: textbooks, sports uniforms/equipment, cameras, JROTC uniforms, band equipment, Sprint tablets, etc.
Cap and Gown distribution for students will be May 13ᵗʰ. We will do this in the bus loading zone and students will remain in their cars. Students will also receive their other purchased items such as yearbooks, Cap and Gown photos and Senior t-shirts.

Students with last names A-J will pick up between 9am-12pm.
Students with last names K-Z will pick up between 1-4pm.

Students who have not paid their Senior fees ($40) can do so by paying through School pay – https://www.schoolpay.com/pay/for/201920-Senior-Fees/Sb3feND These must be paid before they pick up their Cap and Gowns. Senior fees pay for their diploma, diploma covers, Seniors pins (already received), and Senior t-shirts.
If students ordered announcements, class rings, and other memorabilia from Herff Jones. They need to call and make sure their balance is clear. Class rings and memorabilia will be shipped directly to the home. Announcements will be distributed with the Cap and Gowns.
Students still wishing to purchase a yearbook can do so by going to www.yearbookforever.com which will be distributed with their Cap and Gowns. These are $75 plus tax.
Senior Cords and Recognition: Students will receive their Athletics and Academic recognitions (that are available) when they pick up their Cap and Gowns. Due to the current circumstances, we have not received all our Academy/Club recognitions and will devise a plan for distribution when they arrive.
Grad Bash refunds will be done as one once we receive the check from Educational Experiences. We have already verified most address information for all Seniors to mail checks.
Seniors will receive their official diplomas on May 28ᵗʰ. Students must have turned in and
paid ALL obligations before they can receive their diplomas. This includes borrowed laptops for
distance learning. We will have a team on site to collect laptops the same day as diploma pickup.

Students with last names A-J will pick up between 9am-12pm.
Students with last names K-Z will pick up between 1-4pm.

We have reached out directly to Seniors who need to send in a photo or who still need to provide the proper pronunciation for their names. If you are one of these Seniors, please send to me ASAP so we have you in there. The picture must be a front facing, neck up photo. Students should be in a dress shirt with a simple background (i.e. white wall). We are submitting this to district next week so it is imperative we receive these.
Senior graduation is on May 27ᵗʰ at 11:00am.