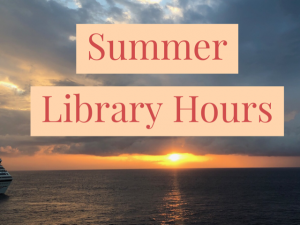 SUMMER LIBRARY HOURS– REDUCE THE "SUMMER SLIDE"
This is Very Special News! For the Second year, Mariposa's Media Center will be open two days each week for two hours. Mariposa students can come to the library with an adult and check out a library book.  This would be a great way to get started with the SSYRA books and reduce "summer slide". Computer access will also be available for students to continue to work on iReady or Prodigy.
Mark Your Calendar:  Open 1:15– 3:30 p.m.
Tuesday, June 11      Thursday, June 13
Tuesday, June 18      Thursday, June 20
Tuesday, June 25      Thursday, June 27
Tuesday, July 9         Thursday, July 11-CLOSED
Tuesday, July 16       Thursday, July 18    
Helping children become readers is not just about opening a book; it's about opening the right book—the book that gets them so excited to read they can't put it down. Why is this important?
Because reading for fun has real and long-lasting benefits that can help your children do better in school and in life. How can you motivate your child to read more? Here's how:
Be a good reading role-model. Let your kids see you read.
Have a collection of books in the home. Update it often to keep up with your child's changing tastes and reading skills. Allow your children to choose their own books.