Oak Hammock K-8 School will be a vibrant learning environment that nurtures each student to continuously improve academic performance.  The students will learn to become contributing citizens in a school community that is respectful, responsible, safe, and positive.  The school will foster a love of teaching and learning for students to carry through to graduation, so they may reach their full potential in life.
Teachers design authentic and satisfying work that will challenge and engage every child, equipping each to become a productive member of a global society.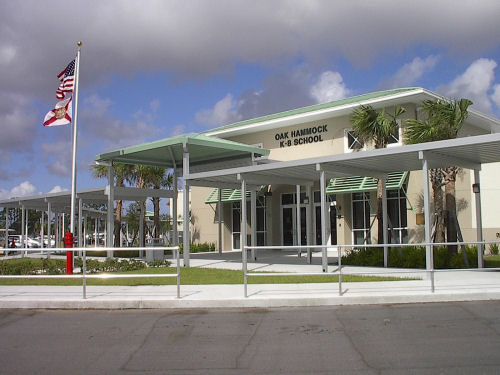 Positive Behavior Interventions and Supports (PBIS) is a district initiative for improving student behavior at school. Students are taught appropriate procedures and behaviors in various locations and situations, using positively stated rules and guidelines with a common language in all school environments.
Our students follow our four school wide expectations: Be Safe, Be Responsible, Be Respectful, Be Positive. Students are given Osprey Dollars when they exhibit these behaviors. The dollars can be used towards PBIS event days or our Osprey Store which has a variety of items.
Parents, there are many ways you can help support your child with PBIS. At home you can use our similar language to help reinforce our expectations. Ex."Thank you for being responsible and putting your backpack away." By working together we can ensure that your child is successful, no exceptions!
Oak Hammock is proud to be a part of the growing number of schools across St. Lucie County and the United States that have chosen to become a Kids at Hope School. We believe that "All children of Oak Hammock are capable of success, NO EXCEPTIONS!" Our school is committed to being a school where all students are surrounded by caring adults. These adults have high academic and behavioral expectations for our students and will provide all of them with opportunities to be successful. Our vision, through Kids at Hope, is that every child is afforded the belief, guidance, and encouragement that creates a sense of hope and optimism, supported by a course of action needed to experience success at life's four major destinations: Home & Family; Education & Career; Community & Service; and Hobbies & Recreation.