~Students of all ages enjoyed holding Mike, our classroom Ball Python. Science camp is offered every Friday for an hour after school in the Vet...
Deputy Iglesias speaks to sixt...
1
2
S.O.S
3
Posted by Caleb Bihari
Greetings families! I am excited to share with you all of the exciting things we are doing in technology this year. Students will become proficient in a variety of skills in accordance with the ISTE standards. In kindergarten and first grade, the first few weeks of schools are focused on students logging into the network with their usernames and passwords. This is an...
Read More
Posted by MELISSA HUTCHINGS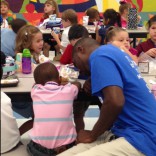 ~Harold Davis comforts kindergarten students during the first week of...
Read More
Posted by MELISSA HUTCHINGS
New Volunteer Process and Information The St. Lucie County School District...