Manatee Academy's Student Council and Honor Society sponsored a 5k run/walk "Once Around the Block to Fight Hunger" on January 23rd. Students, staff, and community members came out to support this fundraising activity to support the Treasure Coast Food Bank. Funds raised from the event were donated to help replenish the shelves of our local [...]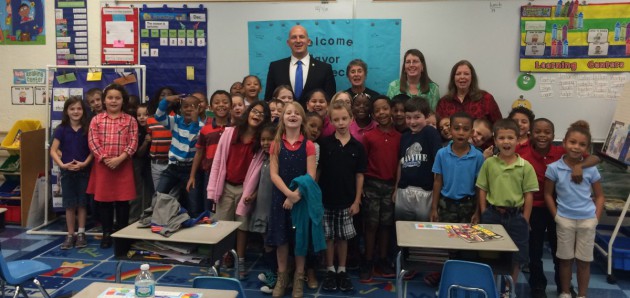 On Monday, December 7th, the first graders at Manatee Academy were fortunate to have Port St. Lucie's Mayor Gregory Oravec as a special guest speaker. He talked about the duties and responsibilities he has as our mayor. The students found this very informative and had many questions for him. This was an excellent opportunity for [...]
Dear school community, We live in a world surrounded by technology. And we know that whatever field our students choose to go into as adults, their ability to succeed will increasingly hinge on understanding how technology works. But only a tiny fraction of us are learning computer science, and less students are studying it than [...]
Manatee Academy Supports the T...
1
Mayor Oravec Visits Manatee Ac...
2
The Hour of Code is Coming!
3
Posted by PAIGE RIFE
Join us January 23, 2016 for Manatee Academy's first 5k Run/Walk to support the fight against hunger. Registration is available online at www.active.com, search Manatee, or you can register with Mr. Charles Pilson, in person using the attached registration form (Manakee 5K). The first 125 participants to register will receive a free T-Shirt!
Read More
Posted by Caleb Bihari
This week tens of millions of students all over the world are taking part in the Hour of Code, an initiative for students to learn computer science. Among them are the 4th and 5th grade students at Manatee Academy. All classes are given an introduction on the importance of technology in our world today and [...]
Read More
Posted by Lisa Friend
Manatee Academy art students designed and painted a beautiful banner showing the importance of water in our world. The students were guided by Mr. Montoya, the Art Teacher. The Wyland Foundation sponsors the annual "Water is Life" Art Contest, selecting a winning school banner and a student art submission from each grade level nationally. Wyland [...]