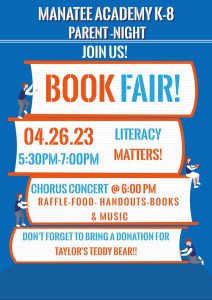 Please join us for Parent Night on April 26 from 5:30-7:00. We will be having Raffles. Food, Handouts, Books and Music!
The Book Fair Will be open from 5:30-7:00.
The Spring Chorus Concert will begin promptly at 6:00pm.
Don't forget to bring a New Small-Medium sized Teddy Bear for our Taylor's Teddy Bears Drive!