School Colors
Red and Black
School Mascot
Bulldog
Our Vision
Our Vision is to create an environment that is safe, secure, and contributes to active learning:
Where every student and staff member are learners and leaders
Where teachers are facilitators of learners creating engaging work that challenges all students
Where every parent and the school community is invited and invested
We are a Kids at Hope School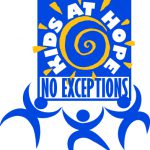 Kids At Hope
What is Kids at Hope? It is a belief that all children are capable of success, no exceptions. It is a commitment to all children, at every age, stage, and grade level. It is a culture where adults believe in children, connect with them, discover their talents, and help students develop dreams and goals for the future. This is what hope is all about!
Kids at Hope is based on three universal truths:
We believe that all children are capable of success, no exceptions.
We connect with all children in a meaningful, sustainable way through relationships called Aces.
We time travel by teaching children to mentally time travel to their future in four destinations (areas) of life: Home & Family, Hobbies & Recreation, Community & Service, Education & Career.
Kids at Hope is a community-wide movement that includes local government, law enforcement agencies, daycare centers, recreational facilities, and countless other organizations in St. Lucie County. St. Lucie Public Schools proudly partners with the Roundtable of St. Lucie County to provide a strong school-community partnership that keeps Kids at Hope going.
SAC
The School Advisory Council (SAC) at Forest Grove Middle School is a resource for the school, its teachers, parents, and principal. Its function is to develop and oversee the implementation of a School Improvement Plan (SIP) that will serve as a framework for school improvement. The primary function of the SAC is to provide all of the stakeholders an opportunity to be active participants in the assessment of needs, development of priorities, and identification and use of resources based on an analysis of multiple sources of available school data.
PTO
The Parent Teacher Organization, PTO, is an organization developed to help build the relationships between schools and families, and to support students' learning.
Volunteer
The volunteer program offers parents, grandparents, students, and concerned adults the opportunity to make a difference. We have many opportunities to work directly with students and staff or to work at home preparing materials. The following is a list of some of the opportunities available:
Regular classroom help for the teacher
Materials preparation (cutting decorations, coloring papers, etc.)
Mentoring (spending quality time with children, academically and socially)
We have many other plans for programs, which will need a strong commitment from volunteers, including fundraising, field trip chaperones, and assisting in a Book Fair, just to name a few. If you are interested in volunteering, please call the school at (772) 468-5885.