S.W.I.M. for the "GOLD"

Parents and Guardians:
    Summer is almost here and we have free web-based academic resources available to support your children's continued growth and preparation as we venture into the summer months.
These helpful resources are for grades PreK through 12 and are available for use by students, parents, and community organizations any time and any place. C
lick on the link:  http://www.stlucie.k12.fl.us/seasonal/summer-slide/
to explore these resources with your child today.
Our students "Amazing Art" is proudly on display at
the district office!
 
March 24th, 2017,
PBIS will hold a fun outdoor activity event
for 15 Dolphin Dollars!
Floresta Elementary is celebrating Literacy Week!
Thursday, January 26, 2017
  5:30-7:30
Bingo For Books!

 Floresta Families are invited to play bingo to win books. We will have a guest Bingo Caller-Superintendent Wayne Gent join us. Pizza, salad, and garlic knots will be served. See fliers with information that have been going home.

It's Time to Read with JustTake20.org!
Everyday Reading for Florida Families
Click on link for newsletter.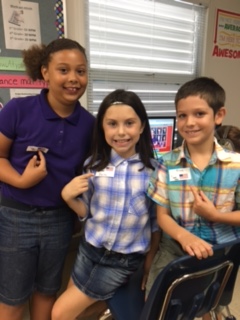 Students got a chance to participate in a Mock Election in their Technology class through Kids Voting USA.
Kids Voting USA Mock Election provides an excellent opportunity for students around the country to participate in and become excited about the electoral process. We want students to understand and value their rights and responsibilities as citizens.
STEAM Day at Floresta
Students at Floresta Elementary all participated in a group project to use all recycled materials to build a car with wheels that rolled. The hardest part of all was listening to other students ideas and working together as a team.TEAMWORK is just as important  as the end product!

Dads Take Your Child To School Day was a success here at Floresta! Thank you to all our wonderful Fathers/Grandfathers & male role models who showed up today!
                         3rd Graders hard at work doing science experiments.         

During SciFi day in Mrs. Rosenberg's 3rd grade class, the students explored the states of matter with water and ice.

21stCentury After School Program PSA
The whole school participated in a PBIS event for making great choices at a PBIS celebration on February 26, 2016. The students all danced and sang to their favorite songs and had a great time. These students followed the S.W.I.M. expectations at Floresta. Show respect, Work to keep our school clean and safe, Illustrate responsibility, and Maintain a positive attitude!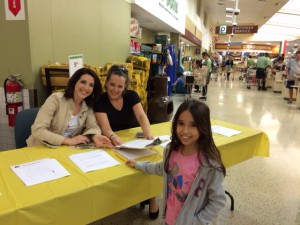 Floresta Elementary students participated in a Math Literacy Night at Publix Supermarket. The students' were to complete a scavenger hunt using real world money problems. The students' had a great time going "shopping" and learned a lot about counting and adding money used for grocery shopping.



  Mrs.Guiel and Mrs. Cain