Vision
Morningside Elementary School, in partnership with families and the community, will provide an educational institution of academic excellence. Each student will be afforded the opportunity to reach his or her maximum potential to be a successful citizen in the global society.
Mission
The mission of Morningside Elementary School is to provide all students a safe and positive learning environment, rigorous academic curriculum, and access to technological resources evidenced by continuous student achievement.
Florida Department of Education 5 Star School
The Five Star School Award was created by the Commissioner's Community Involvement Council and is presented annually to those schools that have shown evidence of exemplary community involvement. In order to earn FIVE STAR school recognition, a school must show documentation that it has achieved 100% of the established criteria in the categories of business partnerships, family involvement, volunteerism, student community service, and School Advisory Councils.
Florida's Golden School Award
The Golden School Award is given annually by the Florida Department of Education to recognize public schools with exemplary volunteer programs. Hours donated in all forms of volunteering, i.e. mentors, tutors, advisors and advocates, are to be included. A Golden School must meet the following criteria:
A staff training program on volunteerism in which a minimum of 80% of the school staff have participated during the school year.
A School Volunteer Coordinator who has been designated to provide leadership for the school volunteer program through recruitment, placement, training and supervision of participants.
A total number of hours in volunteer service that equals twice the number of students enrolled in the school. These hours of volunteer service will be in the areas that support instruction. "  (FLDOE website)
Meet our administration
Kathleen Melrose—Principal
It is with great honor to serve as the Principal of Morningside Elementary School, the best school in the state of Florida. Welcome to Morningside, where every child exceeds expectations, every day, the Blue Jay way! Morningside is the oldest school in Port Saint Lucie and has a long, deeply rooted tradition of excellence. Our gifted program is noted for its rigor and relevance. The Odyssey of the Mind program is world renowned and continues to challenge students to think. With the partnering of students, staff, and parents, the vision of the school community thrives. Instruction is traditional yet, innovative, engaging, differentiated, standards-based and designed to meet the needs of each student. Teachers are experienced, skilled in their craft, and have a deep pedagogy which helps to ensure student achievement. MSE is a family oriented neighborhood school of high expectations that is recognized by the Florida Department of Education as an A school, meets the requirements of the Federal No Child Left Behind Act with the designation of an A for Adequate Yearly Progress, and has earned the Golden School and Five Star School Awards. We have numerous business partners that support our school and provide unique opportunities for our students. Parental involvement is strongly encouraged so that our PTO and SAC can actively support school programs. I invite you to visit our school. You will indeed want to become a part of the Blue Jay family.
Rachel Morales-Lopez—Assistant Principal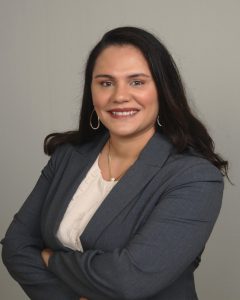 It is an honor and privilege to serve the district and Morningside Elementary School as the Assistant Principal.  My career in education began as a student sitting  in the seats of the classroom.  I am a lifelong learner.  I began my professional growth in this field as a bilingual paraprofessional working with at risk youth in New York City.  After serving the New York City Public School system for  6 years, my family and I moved to Florida in 2003 and fell in love with the climate and family lifestyle the Sunshine state provides.  In 2007, my family and I found our home in Saint Lucie County and this school district.  It was quite an adjustment, however, the county ensured that I received the supports necessary to thrive.  Since my move to PSL, I've served the County in many different capacities while teaching.  I've served as Team Leader, Professional Developer, Trained Trainer for Thinking Maps, Write From the Beginning, and Performance Matters.  I've also facilitated many Learning Communities and offered parent workshops at the school and district level.  As a lifelong learner, I've always sought to improve my practice in the classroom, by participating in the Saint Lucie County framework workshops and serve as a teacher leader for my colleagues.  While living and teaching in Florida, I culminated my M.S. Degree in Curriculum and Instruction from Fordham University in 2010 and my Specialist Degree in Educational Leadership from Florida Atlantic University in 2015.
On a personal level, I am the mother of 4 wonderful children and wife to my amazing husband of 22 years.  With out their unwavering support and encouragement, I would not be where I stand today.
As the Assistant Principal of Morningside Elementary, I look forward to leading by example and continuing the tradition of excellence in education for the students, staff, teachers, and community.  I've left one family with a wealth of knowledge, friendships and professional growth to join and co-lead the Blue Jay family bringing with me 20 years of experience and love of learning.