Vision
Morningside Elementary School, in partnership with families and the community, will provide an educational institution of academic excellence. Each student will be afforded the opportunity to reach his or her maximum potential to be a successful citizen in the global society.
Mission
The mission of Morningside Elementary School is to provide all students a safe and positive learning environment, rigorous academic curriculum, and access to technological resources evidenced by continuous student achievement.
Florida Department of Education 5 Star School

The Five Star School Award was created by the Commissioner's Community Involvement Council and is presented annually to those schools that have shown evidence of exemplary community involvement. In order to earn FIVE STAR school recognition, a school must show documentation that it has achieved 100% of the established criteria in the categories of business partnerships, family involvement, volunteerism, student community service, and School Advisory Councils.
Florida's Golden School Award
The Golden School Award is given annually by the Florida Department of Education to recognize public schools with exemplary volunteer programs. Hours donated in all forms of volunteering, i.e. mentors, tutors, advisors and advocates, are to be included. A Golden School must meet the following criteria:
A staff training program on volunteerism in which a minimum of 80% of the school staff have participated during the school year.
A School Volunteer Coordinator who has been designated to provide leadership for the school volunteer program through recruitment, placement, training and supervision of participants.
A total number of hours in volunteer service that equals twice the number of students enrolled in the school. These hours of volunteer service will be in the areas that support instruction. "  (FLDOE website)
Everglades Champion Gold Level Schol

The Everglades Literacy Program gives teachers the tools and knowledge to teach and move forward in educating current and future generations. The program provides teachers, students, schools, and families with:
STEM-based professional development – Everglades Literacy Teacher Trainings.

Lessons and materials for each teacher who attends a Teacher Training.

Online K-12 Teacher Toolkit with 36 comprehensive Everglades lessons. plans that align with State Academic Standards.

Additional instructional resources for the classroom or virtual classroom

K-12 Everglades Champion Schools Program – designed to showcase and recognize exceptional Everglades literacy efforts in a school.

Classroom presentations, participation in science nights, field trips, and other school events.
Meet Our Administration
Valerie Forman Principal
Welcome to Morningside Elementary School! I am honored to serve as the Principal at MSE, working alongside educators that are committed to excellence and who truly care about the success of all our Blue Jays!
I am proudly a first-generation graduate and committed to providing meaningful opportunity to all students. St Lucie Public Schools has been my home since 2010, and in this time, I have served as a primary and intermediate level teacher, Instructional Coach, and Assistant Principal.  Fostering a lifelong love of learning is my passion, and I look forward to seeing our amazing MSE students continue to learn, grow, and thrive!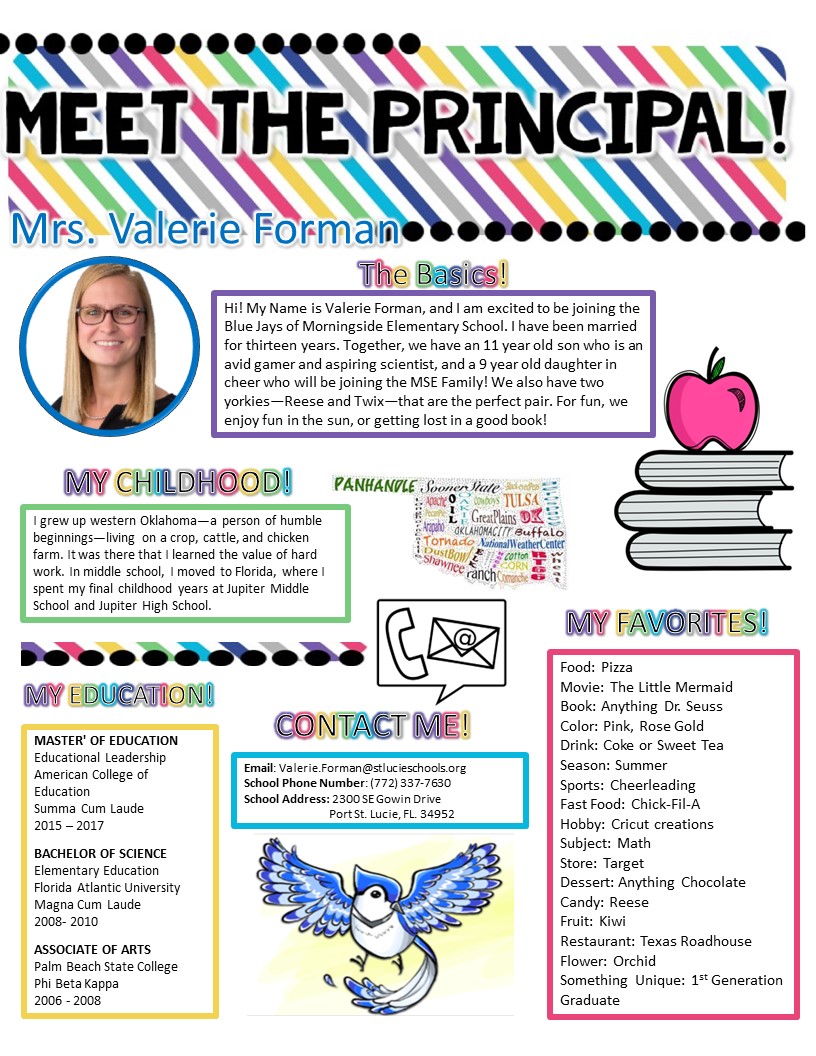 Shauna Turner-Wright- Assistant Principal
Mrs. Wright proudly joins the Morningside Elementary Family this school year from Palm Beach County School District. Mrs. Wright comes to us with 27 plus years of experience as an Educator in Florida schools, with the past 4 of those years as an Assistant Principal.
Mrs. Wright is a graduate of Bethune Cookman College (University) in Daytona Beach where she earned her Bachelor's degree in Education. She is also a graduate of National Louis University earning her Master's Degree in Curriculum & Instruction, and Nova Southeastern University where she received her Specialist Degree in Educational Leadership. Mrs. Wright shares that her successes are not in her degrees, they are in the encounters and experiences that she has with people.
Mrs. Wright is excited to join St Lucie Public Schools with MSE! She is most thankful for the Warm Welcome from students, staff and parents! She is looking forward to Amazing learning adventures with all of her Blue Jays!