IB Coordinator:
Ms. Carol Kuhn
(772) 468-5474
Carol.Kuhn@stlucieschools.org
Benefits of an IB Education Link
---
---
Mission Statement
The International Baccalaureate Organization aims to develop inquiring, knowledgeable and caring young people who help to create a better and more peaceful world through intercultural understanding and respect. To this end the IBO works with schools, governments and international organizations to develop challenging programmes of international education and rigorous assessment. These programmes encourage students across the world to become active, compassionate and lifelong learners who understand that other people, with their differences, can also be right.
---
Overview
International Baccalaureate (IB) is a curriculum and exam program that can be taken in 3,914 member schools in 147 countries. It was founded in the mid-1960's and has headquarters in Geneva, Switzerland, and a regional office in New York City.
The IB diploma program is a rigorous pre-university course of study leading to examinations, which meets the needs of highly motivated and academically-inclined secondary school students. IB stresses education of the "whole person" in this time when knowledge continues to expand dramatically; when advanced technologies and global economics have tied together vastly different cultures, when the world is bound too closely for provincial ideologies to guide political thought; when to exist in a world community requires appreciation and understanding of cultural diversity; and when cooperation alone will solve worldwide problems.
All IB diploma candidates are required to study a foreign language, sciences, mathematics, humanities and English at LPA. The intent is that students should learn how to learn, how to analyze, how to reach considered conclusions about people, their languages and literature, their ways in society, and the scientific forces of the environment.
The effectiveness of the IB programs worldwide is attributed to the depth of the individual courses and also the comprehensive nature of the total program. Unlike other honors programs, IB requires each student to take advanced courses in six academic areas.
In order to qualify for the prestigious IB diploma, students must pass written exams in six areas; some subjects also include an oral exam.
---
Why Should a Student Consider the IB Program?
This program challenges and meets the needs of highly motivated, academically-oriented students in all subject areas. Preparation for college is assured, and many colleges give admission preference to IB students and award college credit for IB work. Being in this program assures students that the quality of their education is as high as that of students in fine schools all over the world. IB students have the opportunity to obtain a thoroughly well-rounded education. They take extremely challenging courses in areas of their strengths and areas in which they have less strength, as well. Graduates of these programs often point to their success in their weaker subjects with the greatest pride. IB insists that students challenge themselves in all areas of the broad curriculum. Beyond the academic advantages, through the CAS Project, students are encouraged to give time to make the world a better place. This is a key part of the global nature of IB.
Advantages for College Admission
Students in prepatory courses and IB classes receive weighted value for their grades, which enhances their grade point averages in the school and the district. Hundreds of colleges worldwide have recognition policies for students with IB diplomas. Each college sets its own criteria, so students should view their IB courses in the context of the perspective college's requirements. We will counsel students to be sure that they have the opportunity to meet the requirements. In some cases, a full year of college credit is awarded to IB diploma holders. Some students will be awarded college credit in selected courses.
---
Middles Year Programme (MYP)
The IB Middle Years Programme is an educational framework developed for students in grades 6-10 to gain an understanding of the fluidity of knowledge between subject areas. Additionally, we work to develop students to become critical and reflective thinkers. The final culminating piece, the personal project, allows for students to showcase their talents and knowledge gained over the five years in the programme.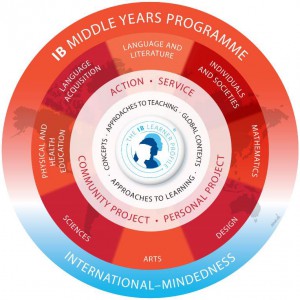 Approaches to Learning (ALT) is central to the programme, as it is concerned with developing the intellectual discipline, attitudes, strategies and skills which will result in critical, coherent and independent thought and the capacity for problem solving and decision making. It goes beyond study skills, having to do with learning how to learn and with developing an awareness of thought processes and their strategic use.
Community Service (CS) starts in the classroom and extends beyond it, encouraging responsible, caring participation in the local environment and in the wider world. The emphasis is on developing community awareness and concern, a sense of responsibility, and the skills and attitudes needed to make an effective contribution to society.
Global Contexts (GC) Students learn best when their learning experiences have context and are connected to their lives and the world that they have experienced. Using global contexts, MYP students explore human identity, global challenges and what it means to be internationally – minded.
---
Diploma Programme (DP)
The IB Diploma Programme is an academic programme for highly motivated students in grades 11 and 12 that focuses on six core subjects. This holistic education continues to build from principles and foundations developed through the MYP curriculum. The final culminating pieces—CAS projects, the extended essay, and Theory of Knowledge— allow for the student to further develop a cross cultural understanding of the world.
---
What happens if students do not pass one or more IB exams?
If students meet Lincoln Park Academy's standards for graduation, the high school diploma will be awarded whether or not they qualify for the IB diploma on the IB exams. Students must meet IB standards to receive the IB diploma. However, if students qualify on fewer than six exams, they receive IB certificates for the courses in which they passed the exams.
---
In the event a student withdraws at anytime from the IB or Pre-IB program the student cannot be re-admitted to the program.
---