Friday, October 7th:
Friday Night Lights and a Record Breaker! A win on the scoreboard, a record broken, and an amazing show of support by the Jaguar family tonight… There may have been a chill in the air, but the football team and band were on fire!!!
---
Saturday, October 8th:
JROTC won 1st place at the Raiders Competition on Saturday!
The Jaguar Band, led by Mr. Wiley had a great showing at Crown Jewel in Vero Beach.  They received runner up in Silver Class and won best General Effect, and also tied for best Music Performance.
---
Monday, October 10th:
Science Hallway got ready for Halloween by decorating all of their chalkboard doors!
The next Generation of CNAs on the rise… Mrs. Cebelak and her students had their first clinical experience this year.  They did amazing, the facility loved them and can't wait for them to come back!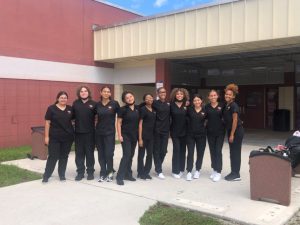 ---
Tuesday, October 11th:
Carpentry Teacher Mr. Slover puts the final coat of varnish on the new School Counseling Team's Mobile Guidance Desk that was built by the Building and Construction students.  The wood detail is absolutely amazing!
Coach Picchiarini works with his Drafting class – check out the NEW drafting tables that help showcase their Drafting and Drawing skills.
Coach Barnwell organized a supply drive for the victims of Hurricane Ian.
Both of our Volleyball teams won on Tuesday!!! Coach Dempsey organized a wonderful celebration for our Senior Players!
---
Wednesday, October 12th:
The Chorus Fall Concert was amazing, led by Mr. Hagans and supported by Mr. Card. Our students sang from their hearts and you could feel the joy in the Auditorium!
Senior Guidance FAFSA night was a success – a very important opportunity to prepare both parents and students for their future college and career experiences.
Coach Rhoden prepared a very special Senior Ceremony for golfer Carlos Abreu, one of the amazing boys on our Boys Golf Team.
A very supportive team helped to get *almost* the entire school tested for both the PSAT and SAT.
---
Thursday, October 13th:
Coach Milner and over 60 student athletes were working together with Ms. Crossland, Ms. Phillips, Mr. Archer, Mrs. DiGiacomo, Mrs. Williams, Mrs. Shepherd, and Mr. Brown to complete homework and have after school tutoring.  So much support of our student athletes who are amazing, hard working Jaguars!
Chef Foerster earned a Mini Grant from the Florida Restaurant and Lodging Association Educational Foundation (FRLAEF) to benefit our Jag Culinary Crew!