Yearbook Purchases 2023-2024 SCHOOL YEAR
Yearbook purchases for the 2023-2024 school year will start in August/September of 2023.
Senior Portraits 2023-24 school year
The last opportunity to have senior photos done for the yearbook was on September 23rd. If you need photos done, you will need to make an appointment in Orlando before October 15th. Anything after that, we cannot guarantee your photos will make the yearbook.*Please note, our policy is that we do not accept photographs from other companies. If you want to be in the yearbook, you must use Leonards.
Underclass Portraits (9-11 grade) 2023 – 2024
Wed Aug 23, 2023 Fall Portraits                 

Thu Aug 24, 2023 Fall Portraits

Thu Oct 19, 2023 Fall Portraits Retake  
To order school photos online:  www.leonards.com  > Order – then follow prompts
We are now offering an ID App!  No more trying to find that ID!  If you have your phone, you have your ID.  Click on the link below to learn how to download the app to your phone!
Senior Baby Photos – class of 2024
The last day for senior baby photos was on 10.31.2023.  Thank you for participating.
Dedication Ads/Business Ads – 2023-24 
To order a yearbook dedication ad or business ad, go to www.yearbookforever.com.
You can pay for the ad and upload it to www.yearbookforever.com. If you wish for us to design your ad, please pay for it online and then email Ms. Stark with your photos and ad copy.
In the case that you need to give Ms. Stark hard copy and photos for the ad, please follow these instructions.
Collect photos that you want in your ad. Make sure they are clear and NOT blurry.  As always, we much prefer high resolution digital photos.
Write you copy legibly or type it.
Place in an appropriate size envelope and write Student's name, parent name, and a phone number or email so we can let you know it is ready for pick up in Ms. Stark's Room.
If you do not wish to return to the school, please include a SELF ADDRESSED, SELF STAMPED envelope (make sure you have the appropriate amount on your self-stamped envelope). We will make everything back to you.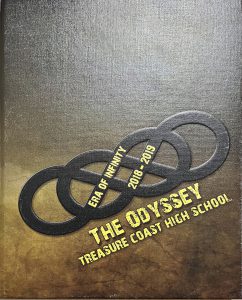 Ordering Previous Yearbooks
We do not often have many yearbooks left to purchase at the end of the school year; however, when we do, we place a link here so that you can purchase them.
When you purchase your yearbook, it is very important that you email your RECEIPT to Ms. Stark at:  stephanie.stark@stlucieschools.org.  At that point, she will email you and let you know when your yearbook can be picked up in the FRONT OFFICE.  If when you click the link below you get a message that there 0 left, then we have sold out.
2023 Yearbooks:
We are out.  We do have books from students who have not picked up from last year.  We are currently contacting these students.  If they have not been picked by the end of December, we will make them available for purchase.  First come, first serve. We cannot hold them because so many people still want one.