Yearbook Purchases 2023-2024 SCHOOL YEAR
Yearbook purchases for the 2023-2024 school year will start in August/September of 2023.
Senior Portraits 2023-24 school year
Below are the dates for 2024 Senior photos… You can lock in your appointment now by going to www.leonards.com > Book Appointment.  All 2024 seniors should receive a postcard via "snail mail" with an access code on it. If you don't have your post card, there is a link there to find your access code.  IT IS VERY EASY!
Here are the dates at Treasure Coast:
Fri Jul 14 2023 Seniors                            

Sat Jul 15 2023 Seniors 

Sat Sep 16 2023 Seniors Retake                

Sat Sep 23 2023 Seniors LAST CHANCE
We will also have some Pop Up Studio Dates at a local studio. Please see below.
June 20-23, 9 am – 4 pm                         

July 20-21, 9 am – 4 pm

July 26-27, 9 am – 4 pm            
LOCATION:
ALYSSA'S Chic Creations ~ 6562 NW Selvitz Rd ~ Port St Lucie, FL 34983
*Please note, our policy is that we do not accept photographs from other companies. If you want to be in the yearbook, you must use Leonards.
Underclass Portraits (9-11 grade) 2023 – 2024
Wed Aug 23, 2023 Fall Portraits                 

Thu Aug 24, 2023 Fall Portraits

Thu Oct 19, 2023 Fall Portraits Retake  
To order school photos online:  www.leonards.com  > Order – then follow prompts
We are now offering an ID App!  No more trying to find that ID!  If you have your phone, you have your ID.  Click on the link below to learn how to download the app to your phone!
Senior Baby Photos – class of 2024
Start looking through your baby photos now.  We will announce at the beginning of the 2023 – 2024 School when we will start receiving them for the 2023-24 school year.
Here is some important information:
Baby MUST be fully clothed
We prefer digital photos.  If you scan at home and email them to us, please scan them at no less than 300 ppi. We will provide information on how to get it to us.
If you want to provide a photo to us to scan, we will happily do it for you.  It needs to be in an envelope (make sure it fits in the envelope with the student name on it and the teacher who you want us to return to).  We do not recommend this way of doing this… While we do the best we can, to protect your baby photos, we cannot guarantee their safe return to you once they leave our possession. It is better to scan them yourself or provide a digital photo.
Make sure your photo is sharp and NOT BLURRY.
DATES AND MORE INFORMATION TO COME.
Dedication Ads/Business Ads – 2023-24 
To order a yearbook dedication ad or business ad, please visit www.yearbookforever.com (NOT until the first of the school year)
You can pay for the ad and upload it there… If you wish for us to design your ad, please pay for it online and then email Ms. Stark with your photos and ad copy.
In the case that you need to give Ms. Stark hard copy and photos for the ad, please follow these instructions.
Collect photos that you want in your ad. Make sure they are clear and NOT blurry.
Write you copy legibly or type it.
Place in an appropriate size envelope and write Student's name, parent name, and a phone number or email so we can let you know it is ready for pick up in Ms. Stark's Room.
If you do not wish to return to the school, please include a SELF ADDRESSED, SELF STAMPED envelope (make sure you have the appropriate amount on your self-stamped envelope). We will make everything back to you.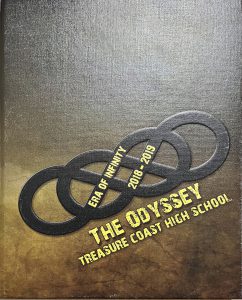 Ordering Previous Yearbooks
We do not often have many yearbooks left to purchase at the end of the school year.
At the beginning of each school year, we place what we have for each year available for purchase. You can purchase them through School Pay only.