Senior Portraits 2022-2023 school year
As of August 26, 2022, all slots for the September 17, 2023 date are full.  At this time, if you would like to have your senior portrait done and placed in the yearbook, you will need to make an appointment at the Leonard's studio in Orlando, FL.  You can do this by calling: 800.215.4852. It must be done by October 15 in order to make the yearbook.  We do not accept portraits from other photography companies.
Senior Summer Photography Dates:
If you don't have that postcard, email me and I will send you your child's access code and information on how to book his/her/their appointments.  YOU MUST BOOK APPOINTMENTS through Leonards.com. They will not be taking walk-ins.
Here are the summer dates: (we will post more for the fall – but there won't be many).
Address: 6558 NW Selvitz Road, PSL 34983
June 9 — 9:30am-5 pm
June 10 — 9am-5 pm
June 11 — 9am-4:30 pm
June 23 — 9:30am-5pm
June 24 — 9am-5pm
June 25 — 9am – 3:30pm (this date is almost completely booked)
Dates at TCHS – Auditorium:
Sept. 17 – 9am – 2pm
Your senior advisor is (as of 4.08.22):
She will be able to answer questions in regard to relevant information about the upcoming graduating class. .
The Assistant Principal for Seniors is:
For questions regarding appointments, prices, etc.,… please call (888) 224-5045.
*Please note, our policy is that we do not accept photographs from other companies. If you want to be in the yearbook, you must use Leonards.
Upcoming photo sessions during the summer will posted when we have them confirmed.
Underclass Portraits (9-11 grade) 2022 – 2023
August 24 & 25
Make up Day on September 28.
If you are not on campus full time, please go to the auditorium during the school day on one of these days to have your photo taken.
If you did not receive an order form, you can order your photos online about 2-3 weeks after the photos are taken!
To order school photos online:  www.leonards.com  > Order – then follow prompts
We are now offering an ID App!  No more trying to find that ID!  If you have your phone, you have your ID.  Click on the link below to learn how to download the app to your phone!
Senior Baby Photos – class of 2023
Please follow the guidelines below.
As is our custom, we will be receiving Baby Photos of our graduating seniors. We will start receiving them on October 1 and will close out on November 1. Here are some guidelines:
Baby must be fully dressed (no, naked babies, even though they are so cute).
Photos SHOULD NOT BE BLURRY. They will not print well.
If dropping off to be scanned – photos MUST be placed in a sealed envelope with student's FULL NAME and  TEACHER's name that they want it returned to on it.  PLEASE consider who you are having us return your photo to. If you are uncomfortable with that, you can just put Ms. Stark's name on it and she will hold on to the photo until the student picks it up…. OR if you include a stamped, self addressed envelope, she will drop it in the mail back to you.
Digital Photos: This is what we truly prefer. Must be scanned at a high resolution. PLEASE avoid taking a picture of a picture. This does not reproduce well in print.  When emailing it to to Ms. Stark (stephanie.stark@stlucieschools.org), please place your child's full name in the SUBJECT LINE – (i.e., Jason Doright – baby photo). She will confirm as she receives them. If you do not get a confirmation from Ms. Stark, please check back within the week that you sent it.
Dedication Ads/Business Ads – 2022-23 SCHOOL
To order a yearbook dedication ad or business ad, please visit www.yearbookforever.com
You can pay for the ad and upload it there… If you wish for us to design your ad, please pay for it online and then email Ms. Stark with your photos and ad copy.
In the case that you need to give Ms. Stark hard copy and photos for the ad, please follow these instructions.
Collect photos that you want in your ad. Make sure they are clear and NOT blurry.
Write you copy legibly or type it.
Place in an appropriate size envelope and write Student's name, parent name, and a phone number or email so we can let you know it is ready for pick up in Ms. Stark's Room.
If you do not wish to return to the school, please include a SELF ADDRESSED, SELF STAMPED envelope (make sure you have the appropriate amount on your self-stamped envelope). We will make everything back to you.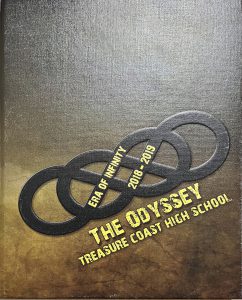 Ordering Previous Yearbooks
We often do not have many yearbooks left to purchase at the end of the school year.  Below are some leftover yearbooks that you may purchase.
Please follow these instructions:
Click on the link associated with the yearbook you want.
Purchase the yearbook.
Send Ms. Stark a copy of the receipt that you get via email.
Once Ms. Stark receives your email, she will respond with the date that you can pick up the yearbook in the front office.  We do not send books by mail.
2018-2019 YEARBOOK CLICK HERE
2019-2020 YEARBOOK CLICK HERE
2021-2022 YEARBOOK CLICK HERE