Senior Portraits 2022-2023 school year
We had over 26 available, local dates for senior photos this year.  We are now no longer accepting senior portraits  for yearbook.
SPRING CAP AND GOWN PHOTOS
If you missed the opportunity for a CAP AND GOWN photo, here is another opportunity.  THIS WILL NOT BE ABLE TO BE PLACED IN THE YEARBOOK.  This is only an opportunity for photos.  The event will take place on 1/27/2023 throughout the day.  Please click on the link below to schedule your appointment.  If students are in school at that time, they will need a pass from their teacher(s).  If not, they must come in through the office (safety protocol).  Photos will take place in the Auditorium. I do not have order forms, but you will be able to order your photos online at Leonards.com.
Your senior advisor is (as of 4.08.22):
She will be able to answer questions in regard to relevant information about the upcoming graduating class. .
The Assistant Principal for Seniors is:
For questions regarding appointments, prices, etc.,… please call (888) 224-5045.
*Please note, our policy is that we do not accept photographs from other companies. If you want to be in the yearbook, you must use Leonards.
Underclass Portraits (9-11 grade) 2022 – 2023
August 24 & 25
Make up Day on September 28.
To order school photos online:  www.leonards.com  > Order – then follow prompts
We are now offering an ID App!  No more trying to find that ID!  If you have your phone, you have your ID.  Click on the link below to learn how to download the app to your phone!
Senior Baby Photos – class of 2023
NOW CLOSED
Dedication Ads/Business Ads – 2022-23 SCHOOL
To order a yearbook dedication ad or business ad, please visit www.yearbookforever.com
You can pay for the ad and upload it there… If you wish for us to design your ad, please pay for it online and then email Ms. Stark with your photos and ad copy.
In the case that you need to give Ms. Stark hard copy and photos for the ad, please follow these instructions.
Collect photos that you want in your ad. Make sure they are clear and NOT blurry.
Write you copy legibly or type it.
Place in an appropriate size envelope and write Student's name, parent name, and a phone number or email so we can let you know it is ready for pick up in Ms. Stark's Room.
If you do not wish to return to the school, please include a SELF ADDRESSED, SELF STAMPED envelope (make sure you have the appropriate amount on your self-stamped envelope). We will make everything back to you.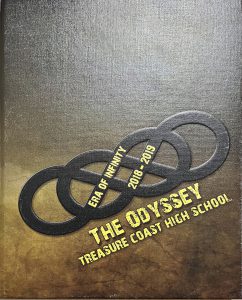 Ordering Previous Yearbooks
We often do not have many yearbooks left to purchase at the end of the school year.  Below are some leftover yearbooks that you may purchase.
Please follow these instructions:
Click on the link associated with the yearbook you want.
Purchase the yearbook.
Send Ms. Stark a copy of the receipt that you get via email.
Once Ms. Stark receives your email, she will respond with the date that you can pick up the yearbook in the front office.  We do not send books by mail.
2018-2019 YEARBOOK CLICK HERE
2019-2020 YEARBOOK CLICK HERE
2021-2022 YEARBOOK CLICK HERE